Different types of industrial coatings have different chemical and physical properties —corrosion resistance, performance when exposed to UV, etc.— but no coating provides all the protection a structure needs. That's why assets are coated with one or more coating types to form a total protective coating system, or a system providing all the chemical, physical and galvanic protection required to protect the substrate from its environment.
Understanding the most common generic coating types —and how they work together to form a total protective coating system— allows designers and owners to choose the system best-suited for their prevailing service location.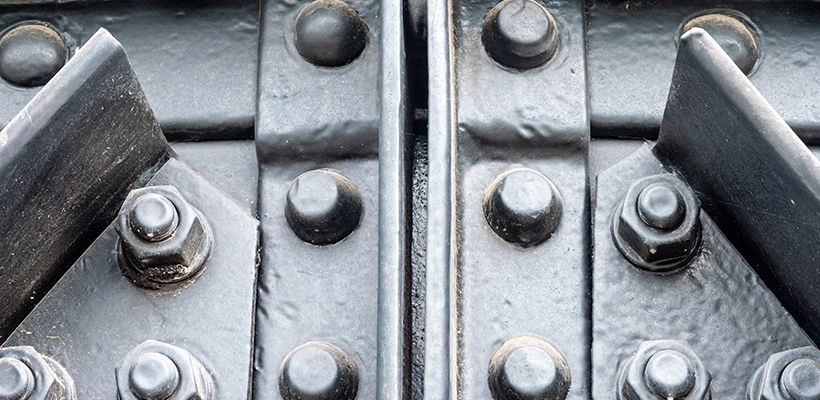 Here, we'll describe the benefits and tradeoffs of four of the most common generic coating types: Epoxies, polyurethanes, polysiloxanes and zinc-rich primers, providing examples of how each might be used in a total coating system.
Epoxies
Epoxy coatings are typically comprised of an epoxy base and a curing agent. A wide variety of coating properties can be achieved by manipulating either of these components: Epoxy polyamide coatings offer great moisture resistance, epoxy mastic coatings offer exceptional film thickness and phenolic epoxy coatings offer good chemical resistance. And due to this versatility, you'll find epoxies used as a primer, intermediate coat or even a topcoat depending on the needs of the application.
The most notable limitation of the epoxy family of coatings is their poor performance in sunlight — which is why epoxies are most often used in interior or submerged industrial applications. You might find epoxies protecting steel inside a nuclear power plant or submerged in a waste water treatment facility.
Advantages
Abrasion resistant
Chemical resistant
Good performance when submerged
Can easily build film thickness for enhanced abrasion resistance
Can be formulated to exhibit a wide variety of favorable coating properties
Disadvantages
Chalks when exposed to UV light
Low flexibility
Polyurethanes
Polyurethane coatings are widely used —often as a topcoat— in applications where durability and abrasion resistance are key considerations. Polyurethanes generally fall into two categories: Aliphatic and aromatic. Aliphatic polyurethanes provide excellent color retention and perform well in sunlight, making them well-suited to exterior environments. Aromatic polyurethanes, on the other hand, better lend themselves to submerged environments — they'll chalk and weather when exposed to sunlight.
Most often, polyurethanes are chosen as the topcoat of a total protective coating system. For example, polyurethane might be applied as a topcoat above a zinc-rich primer and epoxy intermediate coat on a highway bridge. Or even as a topcoat on the concrete walls and floors of a nuclear power plant. Other possible applications include the topside of ships, the exterior of waste water treatment facilities or on locks and dams. Basically, polyurethanes are versatile enough to be formulated to handle a wide variety of service environments.
Advantages
Abrasion resistant
High gloss and color retention
Aliphatic polyurethanes perform well against weathering and UV light
Aromatics perform well when submerged
Low VOC formulations available
Disadvantages
Contains isocyanate (-NCO) ,a harmful carcinogen
Skilled workers and protective equipment are necessary for application
Higher priced than epoxies
Polysiloxanes
Polysiloxane coating systems are a relatively new addition to the market, only dating back to about the 1990s. Polysiloxanes provide excellent abrasion and weather resistance, as well as appearance retention benefits — but fail to provide the flexibility and corrosion resistance industrial environments require.
Combining the benefits of epoxies with polysiloxanes —into epoxy polysiloxane coatings— provides industry-leading abrasion, weather, UV, chemical and corrosion resistance. Although epoxy polysiloxane hybrid coatings cost more than epoxies and polyurethanes, they can be applied more quickly and last longer — providing better long-term value for many applications.
Because of their performance and longevity, epoxy polysiloxanes have been used by the United States Navy to minimize the lifecycle cost of its vessels. But this coating type can be used in a wide range of industrial applications including highway bridges, marine structures, wastewater treatment plants, storage tanks or anywhere that needs a long-lasting, high-performing coating system.
Advantages
Excellent resistance to abrasions and weather
Allows for two-coat applications (zinc primer and polysiloxane) instead of the common three-coat application (zinc, epoxy and polyurethane), in return cutting labor costs
Good color and gloss retention
Good performance when exposed to UV
Higher maximum service (~200-1400 degrees) temperature than other systems
Disadvantages
Touch-ups may be visible due to imperfect color-matching
Higher material costs than epoxies
Newer product — only around since about the 1990s
Organic and inorganic zinc-rich
As a generic coating type, zinc-rich coatings refer to organic (i.e., containing epoxy or polyurethane binders) or inorganic (i.e., containing silicate binders) coatings with high loadings of zinc dust. The zinc provides galvanic protection of the steel surface, meaning that it will corrode instead of the steel beneath it. As the zinc-rich coating corrodes it forms a barrier between the steel and its environment
Inorganic zinc-rich coatings tend to provide better galvanic protection and abrasion resistance than do organic zinc-rich coatings, but require a much higher level of surface preparation. Both variations perform well as a primer in a multicoat system, as they adhere well to the steel surface.
Zinc-rich primers will often be applied as part of a two-coat (zinc-rich primer, polysiloxane topcoat) or three-coat (zinc-rich primer, epoxy intermediate coat, polyurethane topcoat) system. You'll find zinc used in a wide range of highly corrosive environments, including bridges, coal plants and the topside of ships.
Advantages
Provides both galvanic and barrier protection to steel
Abrasion resistant
High level of durability
Disadvantages
Must be topcoated in many applications
Inorganic zinc-rich coatings require an extremely clean surface prior to application
Both inorganic and organic variations have low resistance to acid and alkali
Selecting a coating system for your application: Weighing price and performance
Industrial coating systems provide steel structures with long-term protection against their environment. To do this, the coating system must be well-equipped to handle the environmental conditions of its environment, whether that's heat, sunlight, contact with chemicals or constant abrasions.
The prevailing service environment —along with factors such as cost, accessibility of the asset, expected labor costs, desired service life of the coating system— will dictate which coating system is best-suited for your application.
For designers or owners looking for a short list of coating systems suited for their application and budget, calling a coating contractor like Thomas Industrial Coatings is a good place to start. Coating selection happens on a case by case basis, and we can evaluate the specific needs of your application, offering several systems that could work based on our decades of experience in the industry. Get in touch today to learn which coating system will work best for your needs.