Let's get in touch to discuss how the storage tank services we offer might fit your needs.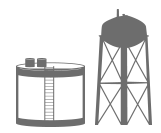 Corrosion and leaks have the potential to compromise a storage tank and the materials contained within. Don't let a failure in your tank's coating system become a costly mistake. Get in touch with one of our experienced representatives today for a discussion of your tank maintenance needs.
Let's talk about:
The style of tank in question and the materials it contains
The services that may be required to prevent leaks or corrosion
The requirements and considerations unique to your storage tank
Simply complete the form to get in touch with a representative.