Download the Thomas Guide to Safety and Quality
Exploring the link between worker safety and a job well done.
There is a definite link between worker safety and the overall quality of the job performed. In this guide, we look at some possible aspects of painting jobs where a crew's safety can be neglected, leading to an outcome that's less than what owners expect. Read this guide to find out how workplace safety leads to more productive, experienced crews.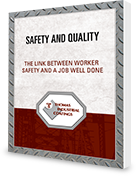 We cover:
The hidden cost of a low bid
Layers of job-site safety
Roadway work zone issues
Lead-based problems
The importance of addressing it all in the project specification phase
Simply complete the form to download the guide.