Industrial coatings products. Explained.
Download the guide.
Most explanations of industrial coatings products are either packed with industry jargon or confusing schematic chemistry. While we don't manufacture industrial coatings ourselves, decades of applying them have left us pretty familiar with their different properties. Here's your guide to the characteristics of some common generic coatings systems.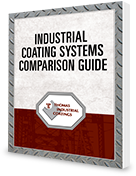 Overviews of generic coating systems such as epoxies, polyurethanes, polysiloxanes and more
Benefits and drawbacks of these systems
Common applications for each
Notes on emerging trends in coating systems
Simply complete the form to download the guide.